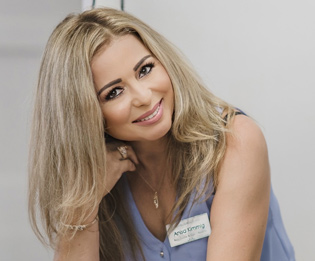 ANISA KIMMIG
REAL ESTATE BROKER
Trusted Luxury Realtors in Atlanta GA
We want to make you smile! At the Kimmig Team, our goal has always been to provide our clients with exceptional service and we do this by sharing our years of knowledge and experience in order to empower you to make fully informed real estate decisions. We know you want what's best for your family and we're here to arm you with all the insights and advice you need.
Helping people is our passion in life – we want to work hand in hand with you in buying or selling real estate in Greater Atlanta. We're also in the business of building dream homes for families; homes that we work hard to ensure will give them happiness.
Over a Decade of Unparalleled Service
Our team is headed by Anisa Kimmig. Anisa Kimmig has been succeeding in the real estate industry for over 20 years now, including accruing much recognition for top sales performances. Much of Anisa's success can be attributed to her commitment to making the home buying and selling experiences as enjoyable and stress-free as possible for clients. She is able to accomplish this by creating very streamlined solutions for each and every real estate need and goal.
With vast experience and knowledge in business, personal and local financial markets, and all aspects of real estate, Anisa is able to provide first-rate customer service, advice, and representation throughout any type of real estate transaction. Providing trustworthy and reliable support is always an extremely high priority for Anisa, and she always works to make every client feel like her only – and most important – client.
Anisa Kimmig loves being part of the Atlanta community, where big-city convenience meets small-town comfort and charm. That is why she has brought together a team of experienced like-minded realtors to better enable more people to easily find their dream home. The Kimmig Team specializes in in-town Atlanta residential real estate as well as properties in the popular suburbs of Atlanta's northside, eastside, and westside. Our team is successfully representing all kinds of buyers and sellers and all kinds of properties, residential and commercial properties. HOMELUX Realty Pro – The Kimmig Team works to ensure that the most important financial decision of your life is also the most enjoyable.
We will be here for you from start to close, taking care of everything and advising you along the way, whether your goal is to acquire your dream home for the best price or get top dollar for the property you're selling.
CALL US! OUR ONLY PURPOSE IS TO DELIVER SUCCESSFUL RESULTS! (678) 469-5683